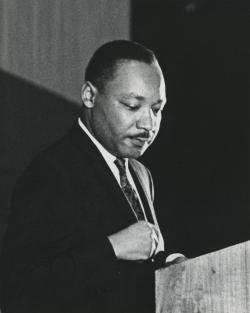 Related Media

Martin Luther King Jr.
Biography:
Martin Luther King, Jr. (1929-1968) was a civil rights activist and Baptist minister. He was a key player in the the bus boycott in Montgomery in 1955, and became the first president of the Southern Christian Leadership Conference. He helped organize the March on Washington in 1963, and delivered his historic "I Have a Dream" speech at that event. He won the Nobel Peace Prize for 1964. He participated in many other demonstrations and campaigns, such as the oft-delayed march from Selma to Montgomery, Alabama; the Chicago Freedom Movement; and the Poor People's Campaign. In 1967 he began publicly to express opposition to the Vietnam War. He was assassinated April 4, 1968, while in Memphis to support a strike by African American sanitation workers.
Photo courtesy of Vanderbilt University Special Collections and University Archives.

Related Interviews
View all interviews